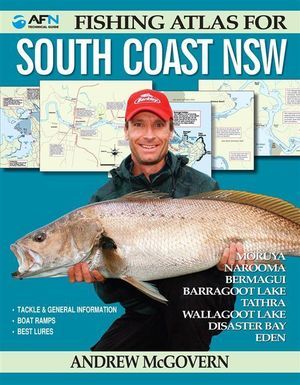 $19.99
AUD
Category: Australian Reference
The complete guide to fishing Brisbane, includes an array of fishing maps. It also features: Tackle & General Information, Best tide times, Boat Ramps, Best Lures, Best baits and more.
$99.00
AUD
Category: Australian Reference | Series: Saltwater People
The focus of Saltwater People - Sydney's Southern Beaches is on the shoreline - that high energy intersection between sea and land where waves, whipped-up by wind and storms, sometimes thousands of kilometers out to sea, announce their arrival in a final dramatic explosion, or caress it with a gentle ca scade. This constant, hypnotic dance with the shore can be calming, and it can be confronting. When the swell appears excitement grows and the coastline becomes energized. The surfzone both attracts and influences us - and in turn our presence affects this playground on the edge of the vast Pacific. It is not just surfers that are attracted to this zone. Sydney's magnificent beaches have produced some truly unique individuals and some incredible stories. They are home of the world's most recognized painters, potters, writers, poets, photographers, film-makers, musicians and architects. Saltwater People - Sydney's Southern Beaches pays homage to those remarkable people who have made this coastline home. When asked, very few people living in Sydney know about the Aborigine people who lived along the coast for tens of thousands of years before the coming of the Europeans. There are also many misconceptions about the culture of the first people. One common belief is that they were all somehow frightened of the ocean, but this is far from the truth. The Aborigine clans along Sydney's beaches were true saltwater people, at home not only in the sparkling estuaries and rivers, but also in the ocean waves. Theirs was a canoe culture. They fished with spears, or lines and hooks, and were accomplished swimmers completely at home in the surf. This part of our history has remained largely hidden, and it is important to reveal here the influence of our Aboriginal heritage not only on the people of Sydney, but also on our national psyche. If we had listened, the Saltwater People would have also taught us much about protecting the coast and its valuable resources. There is now a growing awareness that something is wrong. The natural beauty of the area is under threat. It is obvious that the first people protected this country, and, as they did for many millennia before us, we need to think from the heart and preserve the area for future generations. ...Show more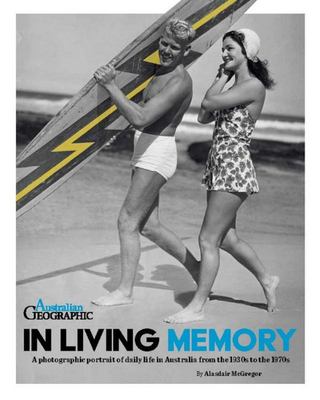 In Living Memory
by Chrissie Goldrick (Editor-In-Chief)
$59.99
AUD
Category: Australian Reference
The story of Australia in the middle decades of the 20th century – from 1930 to 1980 – is one of dramatic contrast; of dark days and light – of economic struggle, anxiety, war and sacrifice, giving way from the 1950s onwards to prosperity, plenty and confidence.Australian Geographic's In Living Memory s urveys these decades with a collection of fascinating, surprising and entertaining photographs of everyday Australian life. Author Alasdair McGregor places the images in their historical context with a thoughtful essay to introduce each of the four chapters – the way we lived, the way we moved, the way we worked and the way we played.This warmly nostalgic collection will appeal to all ages – those who remember the milkman, the dunny man and the ice chest, and those who cheered on Dennis Lillee's moustache or took part in the 'bikini wars' on Bondi Beach. ...Show more
$49.95
AUD
Category: Australian Reference
Australia is an ancient island continent of contrasts and extremes, from lush tropical rainforests to the parched deserts of the inland. The continent's diversity of climates, landforms and habitats are home to an array of fauna and flora, many unique to Australia. At sixteen sites, the natural and cult ural heritage values are so outstanding that they have been inscribed on the World Heritage List. In these, and in national parks and reserves, the country's natural treasures are protected and preserved. ...Show more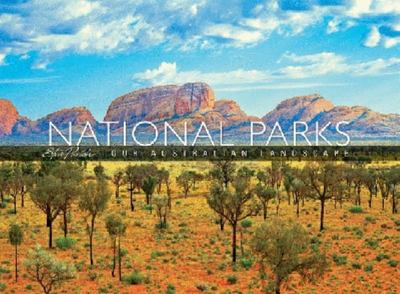 $49.95
AUD
Category: Australian Reference
Australia is a vast, mercurial land; a place where nature goes to extremes. The continent's sheer scale and the diversity of its habitats are enough to indicate that it boasts many national parks and reserves of local and international significance, but its absorbing and ancient history also adds to its natural beauty. Once part of the massive supercontinent Gondwana approximately 180 million years ago, what is now the Australian continent was linked to Antarctica and South America and much of it was swathed in luxuriant rainforest. Cycads, Antarctic Beech and giant dinosaur-age palms and ferns clothed the forests before flowering plants - of which the now ubiquitous gum trees in the genus eucalyptus are among the most prevalent ever existed! ...Show more
$29.99
AUD
Category: Australian Reference
It's been a tough few years. We've had three prime ministers in four years, a scandalous ball-tampering scandal, our own #Metoo moments (Defamation laws apply*) - the Murray-Darling fish kills and, worst of all, the cancellation of both the NRL and AFL footy shows.In this penetrating and incisive book, The Betoota Advocate's editors Clancy Overell and Errol Parker take us on the nation's journey through chaos and confusion, to the start of a new era.Finally, we as a nation have been gifted the rare opportunity to choose who leads our country for an entire federal term. Our cricketers now use talent and skill to win matches. The culture wars are over, and common sense prevails.With a sensible Liberal government, a charismatic PM and a united, strong and experienced cabinet of some of our nation's greatest minds in place, we are well on the road to economic stability and environmental renewal.Join Australia's most trusted newspaper from the remote but vibrant town of Betoota, as we detail the last four years in news. How bad things got, and how lucky we, as a nation, have been to survive it all.How Good's Australia.     ...Show more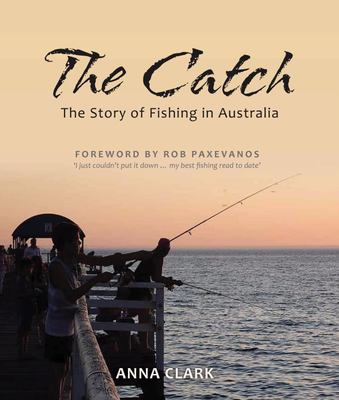 $39.99
AUD
Category: Australian Reference
In every coastal town in Australia, there's a bait shop and a boat ramp,and, in garages around the country, fishing rods are strung up waiting for theirnext outing. Many of us have a special fishing spot, and families pass on tipsfrom generation to generation and exchange fishy tales of amazing catches andnear misses. Bringing her personal passion for throwing in a line, author Anna Clark celebratesthe enduring pleasure of fishing in TheCatch: The Story of Fishing in Australia. This book charts the history offishing, from the first known accounts of Indigenous fishing and early Europeanencounters with Australia's waters to the latest fishing fads; from the introductionof trout and fly fishing to the challenges of balancing needs of commercial andrecreational fishers.    ...Show more
$32.99
AUD
Category: Australian Reference | Series: Great Australian Stories
Fabulous yarns and memories of going to school and teaching in the Outback. If your teacher commuted to school in a plane; if you had to watch out for rogue bulls rather than traffic; if your daily pick-up was done by a horse - you probably went to an outback school. this collection of more than sixty s tories, gathered by Bill 'Swampy' Marsh in his travels across Australia, perfectly captures the experience of life growing up in the outback. Whether you loved school or not, these stories will bring a smile to your face and maybe even a tear to your eye, as students and teachers alike share their yarns and memories of a time gone by...this little kid, he spun around at me and he snapped, 'Piss off, Miss.' Of course, I immediately replied with, 'Excuse me. In this school we always use our best manners when we talk to teachers and adults. So what should we say, then?' And this little kid, well, he looked up at me all sheepish and he said, 'Well then, Miss, piss off, PLEASE.' ...Show more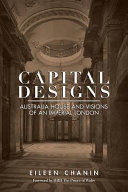 $49.95
AUD
Category: Australian Reference
This book relates the untold story of how Australia's first diplomatic mission was conceived, designed and built. Commenced in 1913, Australia House was opened in 1918 while the Great War still raged. Being London's first purpose-built Dominion embassy building, it defined London as an Imperial capital. It is a story of ambitions and achievements - global, imperial, local and personal. ...Show more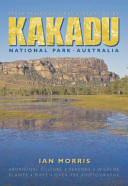 $19.95
AUD
Category: Australian Reference | Series: A Steve Parish nature lovers guide
Visitors to national parks usually have a limited time and the objective of this book to heighten the experience. "Kakadu" has been created by Ian Morris, a renowned writer, photographer and naturalist. It follows the seasons through both European and Aboriginal eyes, providing detailed text, hundreds o f photographs and ...Show more
$34.99
AUD
Category: Australian Reference
The Snowy - A History tells the extraordinary story of the mostly migrant workforce who built one of the world's engineering marvels. This classic, prize-winning account of the remarkable Snowy Scheme is available again for the 70th anniversary of this epic nation-building project. The Snowy Scheme was an extraordinary engineering feat carried out over twenty-five years from 1949 to 1974, one that drove rivers through tunnels built through the Australian alps, irrigated the dry inland and generated energy for the densely populated east coast. The Snowy Mountains Scheme was also a site of post-war social engineering that helped create a diverse multicultural nation. Siobhan McHugh's in-depth interviews with those who were there at the time reveals the human stories of migrant workers, high country locals, politicians and engineers. It also examines the difficult and dangerous aspects of such a major construction in which 121 men lost their lives. Rich and evocative, this sweeping narrative tells stories of love, endurance, tragedy and hard work during a transformative time. ...Show more
$39.99
AUD
Category: Australian Reference
Discover the hidden depths of Australia's oceans through these stunning images full of sparkling coral reefs, diverse plant life and spectacular creatures both large and small.