$12.95
AUD
Category: Study Guides
Year 2 Workbook Theme: People At Work (Jobs). Exercises encourage students to track, trace or copy letters and text models to practise their handwriting skills. Words, sentences and stories in various text types are modelled, using foundation handwriting. Each workbook includes a comprehensive teaching program, a slope card to help students maintain the required foundation slope, writing and spelling extension activities, a skills checklist for parents and teachers to assess students' progress in handwriting and for students to develop a sense of achievement as their handwriting skills improve. ...Show more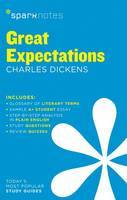 $9.99
AUD
Category: Study Guides | Series: SparkNotes Literature Guide
When an essay is due and dreaded exams loom, here's the lit-crit help students need to succeed! SparkNotes Literature Guides make studying smarter, better, and faster. They provide chapter-by-chapter analysis, explanations of key themes, motifs, and symbols, a review quiz and essay topics. Lively and ac cessible, SparkNotes is perfect for late-night studying and paper writing. ...Show more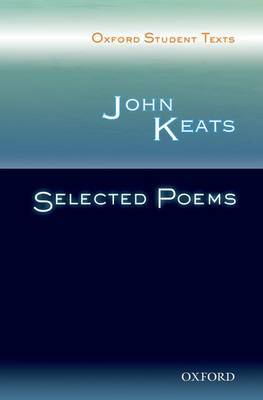 $29.95
AUD
Category: Study Guides
Each book in this established series contains the full and complete text, and is designed to motivate and encourage students who may be writing on these challenging writers for the first time. It contains useful notes to add depth and knowledge to students' understanding, comments to explain literacy an d historical allusions, tasks to help students explore themes and issues, and suggestions for further reading. ...Show more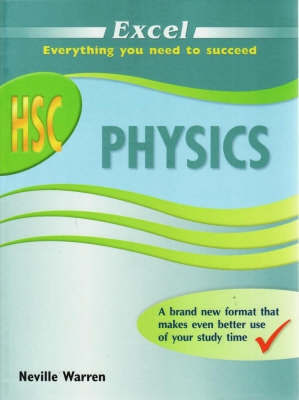 $39.95
AUD
Category: Study Guides
ISBN: 9781741252965 AUTHOR: Neville Warren RRP: $39.95 PAGES: 376 pp. SPECIFICATION: Softcover, perf ect bound, 280 mm x 210 mm STATUS: New edition The Excel HSC Physics study guides directly linked to the syllabus with every single dot point of the HSC Physics syllabus appear ing in the margin of the book. Students can now write in the study guide, keeping their study focused and their notes structured! It includes up -to-date coverage of all the core topics plus 3 Option topics: Astrophys ics, Quanta to Quarks and Medical Physics. up-to-date cover age of the core topics plus 3 Option topics: Astrophysics, Quanta to Qua rks and Medical Physics  this guide is organised just like the HSC syllabus, so the students learn to section (the theoretical par t) is under routine headings and the students section (the practical par t) is under headings like First-hand/Second-hand Investigations and Prob lem Solving - Â%this way you will be able to see at a glance what the theoretical and practical work is! all main headings in eac h chapter (1. 1, 2. 1, etc. ) are directly from the syllabus, word for w ord - Â%this way you can easily match the Excel guide to the syllabus! an alphabetical list of all the key definitions a nd concepts you should know from each chapterÂ% - an efficient way of le arning all the definitions in one go! chapter syllabus checklis t with every single dot point listed in checklist form for each chapter % - a fantastic way of testing that you know all the work! hund reds of key concept questions with answers - Â%questions that test you r ecall of knowledge in each chapter HSC-type questions for every section in each chapter with clock icons to tell you how much time you will have to answer the questions in the HSC - Â%this way you can test yourself on HSC-type questions under HSC-type time pressure! < li>examiner comments and examiner maximiser features, ticks to show the mark distribution and answers to all HSC-type questions - Â%all yo u need to answer HSC-type questions! two sample HSC papers with an examiner maximiser feature plus answers Â%not one but two up-to-date sample papers! the Excel syllabus summary notes: a de tachable section at the end of the guide, where every single dot point o f each chapter is summarised for youÂ% - a comprehensive and compact sum mary of the whole course in 14 pages! ...Show more
$15.95
AUD
Category: Study Guides | Series: Excel Basic Skills Ser. | Reading Level: 6-7
Year 1 Ages 6-7 years old. In Excel English and Mathematics Year 1 your child will find: - Thirty carefully graded double-page units - A wide variety of interesting exercises - Four term reviews to test work covered each term - Marking grids to identify strengths and weaknesses - A lift-out answer secti on. This book aims to build basic skills in reading, comprehension and maths. It supports schoolwork by having students practise key basic skills on a regular basis. This allows your child to learn new concepts while revising program work. ...Show more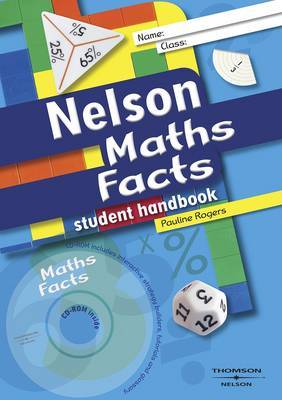 $15.50
AUD
Category: Study Guides | Series: Nelson Maths
This is a compact yet comprehensive resource that provides students with basic mathematical facts and definitions. Suitable for middle years students, the handbook is supported by interactive materials on the accompanying software. The handbook is arranged under topic headings that closely follow curren t mathematics curriculum. This format is carried through the interactive and skill-development learning objects featured on the software. The handbook and software materials provide and easy-to-follow sequential summary of concepts that will consolidate students' mathematical understanding. ...Show more
$14.95
AUD
Category: Study Guides
he Excel Science Handbook provides a compact summary of the main topics studied in the Years 7–8 Australian Curriculum Science course. Features of the book: Easy-to-understand explanations of key terms Full-colour diagrams to help understand key concepts Examples to further assist learning and recall Th e book covers the four Science substrands and the Science Inquiry Skills and Science as a Human Endeavour strands of the Australian Curriculum course for quick test and exam revision Dictionary-style layout and an index to make it easy to find important terms in a hurry Cross-referencing throughout CHAPTERS: Biological sciences Cells, tissues and organ systems in multicellular organisms Organisms and classification Ecosystems Chemical sciences Elements, compounds and mixtures Chemical and physical change of substances Separation of substances States of matter and the particle theory Earth and space sciences Earth structure and systems Natural events on Earth Materials and resources Rocks and minerals Space science ...Show more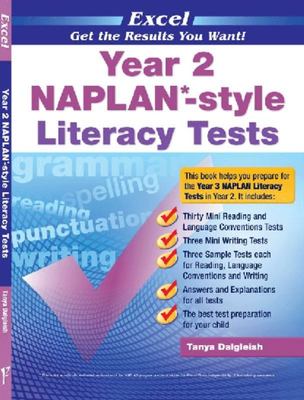 $17.95
AUD
Category: Study Guides
Prepare for the Year 3 NAPLAN Literacy Tests a year early, so you can get a head start! Excel Year 2 NAPLAN*-style Li teracy Tests includes: * Thirty Mini Reading and La nguage Conventions Tests * Three Mini Writing Tests &bull ; Three Sample Tests each for Reading, Language Conventions and Writin g< br />* Answers and Explanations for all tests * The best test preparation for your child CHAPTERS: Introduction The Strengths and Weaknesses Chart Mini Tests: S pelling, Grammar and Punctuation, Reading, Writing Sample Tests: La nguage Conventions, Reading, Writing Answers * This is not an officially endorsed publication of the NAPLAN program and is produced by Pascal Press independently of Aust ralian governments. ...Show more
$34.95
AUD
Category: Study Guides
The Excel Mathematics Study Guide Years 9-10 is essential for all students who want to Excel at Maths. This comprehensive book both supports and challenges students by providing tools to explain important mathematical concepts and giving ample opportunity to practise at a variety of levels. This book co ntains: Explanatio ns of important concepts with Examples and Worked Solutions Checklists at t he end of each chapter with page references to explanations Ple nty of Exercises in the Practise Practise sections at the end of each chapter with page references to explanat ions; Answers and Worked Solutions are provided Two levels of timed Tests (Intermedi ate and Advanced) at the end of each chapter; Worked Solutions and a marking system that gives feedback are provided T wo levels of timed Sample Exam Papers that cover the wo rk for Year 9 and 10 Mathemaics and provide preparation for final examin ations; Worked Solutions are provided A compre hensive Index CHAPTERS:< /p> Financial Mathematics Algebraic Techniques Indices Equations Linear Relationships Non- linear Relationships Rates and Proportion Pythagoras a nd Trigonometry Measurement Geometry Statisti cs Probability Sample Examinations Answers an d Worked Solutions Index ...Show more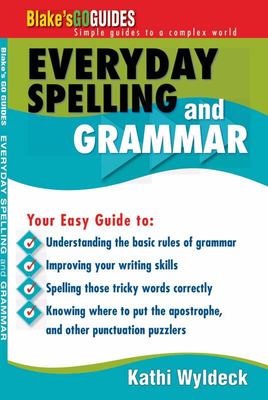 $9.95
AUD
Category: Study Guides | Series: Blake's Go Guides
Covers the correct use of punctuation; basic rules of spelling and grammar; how to write effective letters; how to spell tricky words; definitions and explanations of language terms, and much more.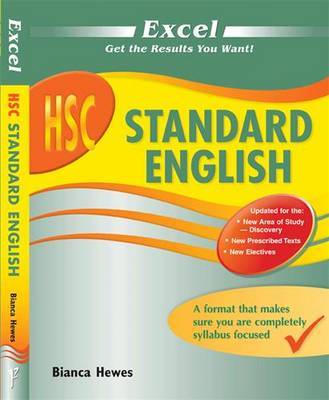 $39.95
AUD
Category: Study Guides
This guide has been written to focus only on the syllabus outcomes for each text in the HSC Standard English course. So you can read an analysis of each text that is completely syllabus focused. All prescribed texts for the course have been summarised plus related texts have been covered.
$13.95
AUD
Category: Study Guides | Reading Level: Children's - Grade 2-3, Age 7-8
The Nelson Maths: Australian Curriculum program supports the Australian Curriculum: Mathematics content strands of Number and Algebra, Measurement and Geometry and Statistics and Probability F-6, and integrates the proficiency strands of Understanding, Fluency, Problem Solving and Reasoning throughout t he activities and tasks. The Nelson Maths: Australian Curriculum Student Books feature: -engaging tasks that students can complete independently or in groups -three Student Book pages per unit -one Student Assessment page per unit -the linking Australian Curriculum: Mathematics content sub-strand, content description and code for each unit -a Glossary of mathematical terms. ...Show more